In 31 years of existence, Banco do Brasil Foundation has structured its activities in order to identify and mobilize different social actors in the search for effective solutions to fundamental aspects of the sustainable development of Brazilian communities. In the last ten years, from 2007 to 2016, 3.8 million people have had their lives transformed by more than 6.5 thousand projects and a social investment totaling R$ 2.6 billion Brazilian Reais.
For the triennium 2016-2018, BB Foundation reaffirms its principles and focuses on its main objective to improve people's lives by promoting socio-productive inclusion, sustainable development and social technologies. The actions will still be concentrated in the current five fields of action: water, agroecology, agroindustry, solid waste and education. The participating public will remain the less favored extracts among the Brazilian population, along with the continuous search for its social protagonism and empowerment. From now on BB Foundation will broaden actions focused on youth and women, since they are segments more sensitive to social inequalities and more exposed to violence.

In organizational dynamics, FBB believes in everyone's potential to perform and contribute to society's development. We foster innovation as a guarantee of continuity and ethics in relationships. We have social sensitivity as an imperative to understand and respond to the concerns of those who see in our work an opportunity for improvement of life, as well as to optimize available resources.
The social investment of BB Foundation will be allocated in actions in urban and rural areas, in five fields: water, agroecology, agroindustry, solid waste management and education. These fields, which will concentrate a large part of the social investment in the 2016-2018 triennium, cover most of the current programs and projects, negotiated or under development partnerships with major strategic partners: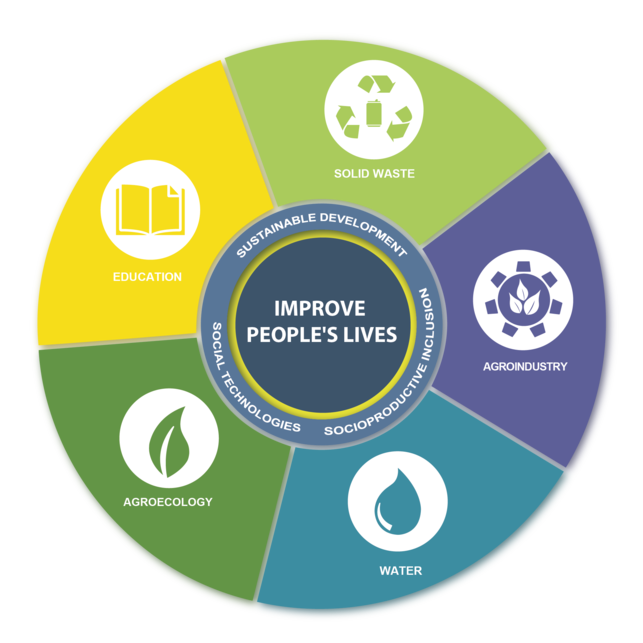 Water - actions aimed at the sustainable use and conservation of water resources focusing on soil and vegetation's preservation and restoration as well as in storage and production of water. It seeks to guarantee water and food security to target groups, such as those included in the scope of the Água para Todos Programme (Federal Government) and the Água Brasil Programme (Banco do Brasil - FBB - ANA - WWF).
Solid Waste - investments aimed at social inclusion of collectors of recyclable materials through actions that strengthen the solidary economic ventures and marketing networks. It includes investments in training and capacity building for self-management, infrastructure, technical assistance, advice and consolidation of associations and cooperatives of recyclable materials.
Agroecology - actions to promote agroecology and organic production as a way to expand, strengthen and consolidate farming in the fields, in the forests and in the cities. It is aimed mainly to family farmers – one of target audiences of FBB. It seeks to expand capabilities in promoting food security; In producing quality food; In keeping cultural and natural heritage; In boosting local solidarity economy networks; In constructing fair social relations between genders, ethnicities, age groups and cultures, and contributing to building a sustainable, egalitarian and democratic society.
Agroindustry - social investments in collective and joint ventures aimed at FBB target audiences adding value to products in every step of the productive chain: from production to consumption.
Education - concentrates actions aimed at the full development of the target groups' potentialities, modernizing the education process for a sustainable lifespan, cross-cutting the other vectors - Agroecology, Agroindustry, Solid Waste and Water, concentrating the investments in structured programs.
I – BOARD OF TRUSTEES
a) Permanent Members
Rubem de Freitas Novaes - President of Banco do Brasil and chairman of the Board;
Asclepius Ramatiz Lopes Soares - President of Banco do Brasil Foundation;
Beny Parnes - Representative of the Minority Shareholders on the Board of Directors of Banco do Brasil.
b) Temporary Members
i – Public Sector
- Standing Member: João Pinto Rabelo Júnior


- Alternate Member: Vagner Lacerda Ribeiro;

- Standing Member: Márcia Aparecida de Lima Fernandes

- Alternate Member:

Vacant position

;

- Standing Member: Vacant position

- Alternate Member: Viviane de Faria;

- Standing Member: Marcelo Cruz;


- Alternate Member: Ana Cláudia Kakinoff Corrêa.
ii – Private Sector
- Standing Member: Frederico Guilherme Fernandes de Queiroz Filho

- Alternate Member: Marcelo Gonçalves Farinha;

- Standing Member: Sandra Santana Soares Costa

- Alternate Member: Lídia Freire Abdala Nery;

- Standing Member: Vacant position


- Alternate Member: Vacant position;

- Standing Member: Vacant position

- Alternate Member: Vacant position.
- Standing Member: Rogério Valsechy Karl - Representative of The Ministry of Finance;

- Alternate Member: Marcelo Kalume Reis;

- Standing Member: Alexandre Carneiro Cerqueira - Representative of Banco do Brasil;

- Alternate Member: Cláudia Ohtoshi Larrubia;

- Standing Member: Luciano Nobrega Queiroga - Representative of the minority Shareholders of Banco do Brasil

and Chairman of the Board

;

- Alternate Member: Guilherme André Frantz.
Managers of Banco do Brasil Foundation
Executive Board
Asclepius Ramatiz Lopes Soares

Rogério Bressan Biruel

Executive Director

Executive Board for Social Development Management

Roberto Luiz Benkenstein

Executive Board for Human Resources, Comptroller and Logistics Management
Managers


ALÍRIO PEREIRA FILHO
Payment Authorization Management - Gerap
ALLAN LOPES SANTOS
Executive Secretariat - Secex
ANA CAROLINA BARCHESI
Strategic Management and Social Technologies - Gerae
ANDRÉ GRANGEIRO BOTELHO
Programmess and Projects Implementation Management - Geimp
EDSON ANELLI
Monitoring and Evaluation Management - Gemav


EMERSON FLÁVIO MOURA WEIBER
Communication Management - Gecom
ERICK CAMPOS NOGUEIRA
Project Analysis Management - Gepro
FÁBIO MARCELO DEPINÉ
Information Technology Management - Getec

PATRÍCIA LUSTOSA BORGES DE LIMA VIEIRA
Human Resources and Infrastructure Management - Gepin
RODRIGO OCTAVIO LOPES NEVES
Finance and Comptroller Management - Gefic
ROGÉRIO MIZIARA
Strategic Partnerships and Modeling of Programs and Projects Management - Gepem
Compliance with laws and regulations, external or internal, is the responsibility of management and supervisory bodies, managers and employees in all instances of Banco do Brasil Foundation.
Management Policies and Guidelines, the Code of Ethics of the Employees of Banco do Brasil and the Charter of Conduct of the Organization are used as references in guiding the principles that permeate the conduct of the employees of BB Foundation.
The Institution has always sought to guide its performance in the best practices by including policies that clearly establish limits and lines of operation, such as the Information Security Policy, the Business Continuity Policy and the Investment Policy.
BB Foundation participates with the Brazilian Institute of Corporate Governance (IBGC) and the Group of Institutes, Foundations and Companies (GIFE) in formulating the "Guide to Best Governance Practices for Foundations and Business Institutes", a publication aimed at social investment agents that sets the standards of fairness, transparency, accountability and responsability.
FBB's governance structure seeks to ensure the appropriate division of operational and management responsibilities among its board of directors and audit committee.
Board of Curators

- is the superior body for deliberation and strategic orientation of the Institution.

Fiscal Board - is the supervisory body for the acts of management of the administrators and activities of BB Foundation.

Executive Board

- is the body responsible for the administration of FBB and compliance with the Bylaws, with permanent action, coordinating and implementing the decisions of the Board of Trustees and other matters of the Organization, as well as taking care of the integration and articulation between the Boards.
Decisions, at any level of the Organization, are taken collectively. In order to involve all managers in defining strategies and operations, the Executive Board uses internal committees that guarantee agility, quality and safety for decision making.
Banco do Brasil Foundation has an Investment Committee to manage the investment strategies for the Institution.. Its purpose is to indicate the Board of Trustees strategies in investing in financial assets through a specific policy.